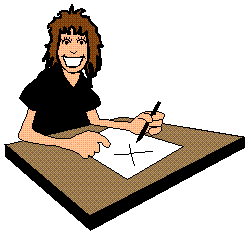 Molly Brown has been everything from an armed guard to a stand up comic and is now a cartoon.

Her short stories have appeared in numerous magazines and anthologies and she has written three novels. A feature film based on her award-winning short story, Bad Timing, is currently in development. Read an interview with Molly on Infinity Plus.
She wanted an ocelot but all she got was links.

---
Published works include:

Bad Timing and Other Stories
Big Engine (U.K.), trade paperback


Bad Timing (Valel Ajal)


Salasona (Estonian translation), paperback


"Watch out! Molly Brown's BAD TIMING and Other Stories is not so much a short story collection as an explosion of parallel universes and provocative ideas. Wow!"


Connie Willis

"Molly Brown is the best company imaginable. If you can't get a date with her (and you probably can't), the next best thing is reading her stories -- which are funny, creepy, sweet, touching and wicked in equal parts. If you buy this book, you won't regret it in the morning."


Kim Newman

"Molly Brown's short stories are extremely crisp, clever and a joy to read... a collection is long overdue."


SFX

"Molly Brown's first short story collection is a blast: an effervescent mix of comedy, horror, and sheer weirdness."


Interzone

"Identity-challenging SF with a hint of Philip K. Dick mixes with light comedy and outright horror... If there's a dud tale in this collection I've skipped over it. The gems would be enough to make up for them anyway."


Starburst

"Bad Timing and Other Stories covers the body of published short work by Molly Brown (one of Interzone's shining lights), and what an exciting writer she is... Some pieces are just downright weird (I loved them for this, by the way), and many others moved from funny to scary. There is much here for all tastes with barely a disappointment to be found."


Altair (Australia)

"Molly Brown has long been one of the most idiosyncratic and distinctive of writers, dealing in fiction that frequently defies category (or more precisely, creates its own category). This beguiling collection is a demonstration that the short story is a particular metier of hers, and the disturbing offerings here present a panoply of dark imagination... Is it a crime piece? a horror story? Forget the categories - simply enjoy the fractured visions that Brown provides in this astringent collection."


Crime Time

"This book is brilliant, go forth and spend your money now."

diversebooks.com
---

Invitation To A Funeral
Victor Gollancz, hardback

Go on a jaunt around Restoration London
Take a 17th Century Trivia Quiz.


Invitation To A Funeral
Vista, paperback



Invitation To A Funeral (Einladung zu einer Beerdigung)
Goldmann (German translation), paperback



Invitation To A Funeral
Thomas Dunne Books/St. Martin's Press, hardback
St. Martin's/Dead Letter, paperback


Invitation To A Funeral
Chivers Press, hardback (large print edition)

"Salty, vigorous and adroit... More please."


Literary Review

"With this sparkling debut, Molly Brown brings pace, zest and colour to the historical mystery."


Peter Lovesey
---

Cracker: To Say I Love You (novelisation based on the Granada Television series, Cracker, created by Jimmy McGovern)
Virgin UK, paperback
St. Martin's Press, hardback
Dead Letter Press, paperback
Gummerus (Finnish translation), hardback
Futami (Japanese translation), paperback
Goldmann (German translation), paperback
Fleuve Noir (French translation), paperback
Also available on audio casette: MCI Spoken Word (Winner of the "Talkies" award for best TV/Film Adaptation of 1995).


"Brown's novelization effectively captures the grit and pace of the award-winning British TV series, and is sure to please hard-boiled crime fans on both sides of the Atlantic... Psychologically deep and fast-paced, Molly Brown's outstanding novelization deserves all the accolades earned by the original TV series."


Mostly Murder

"The raw energy generated by its unique characters sustains considerable suspense. Psychotics, psychologists and police all play dangerous games, spinning off enough tension to propel the tale to its grim, satisfying conclusion."


Publishers Weekly

"Brown's taut novel is compelling, complex, dark - and a guaranteed page- turner."


Booklist
---

Virus (science fiction thriller for younger readers - suitable for age 11 up)
Point SF, paperback



Virus
Giallo Junior (Italian translation), paperback


Virus
Sysprint (Croatian translation), paperback



Virus
Tiritamm (Estonian translation), paperback


"The reader's curiosity is aroused... with each satisfying revelation leading to further mystery. The result is a thoroughly readable thriller, especially recommended to young people who are (or should be) interested in computers, to the newcomer to SF (regardless of age), and to people who read to be entertained."


Interzone

"This was a very enjoyable read... The tale delves further than I could possibly have imagined. The characters are brilliant... Even the obligatory love-interest is handled very well. I liked this book a lot, and had to keep on reading once I'd started. I'm sure that you will as well."


Waterstone's In Brief
(books for teenagers, reviewed by teenagers)

"... delivers a good read, plenty of horrible surprises, a neatly undermined happy ending and even a few laughs."


Times Educational Supplement
---
Some of Molly Brown's short stories since 1990, in reverse chronological order of first publication (all publications are U.K., unless specified otherwise):
Living With The Dead (Celebration: 50 Years of the British Science Fiction Association, NewCon Press, 2008) contemporary fantasy/zombie.

The Selene Gardening Society (The Mammoth Book of New Jules Verne Adventures, Robinson, 2005; American edition: Carroll & Graf, 2005) science fiction. Reprinted in German translation in Rückkerhr zum Mittelpunkt der Erde, Basteii Lübbe Taschenbuch, 2006. Reprinted in Steampunk, Tachyon Press, 2008.

The Hamlet A.I. Murders (Interzone 179, May 2002) science fiction

The Padder's Lesson (Past Poisons: An Ellis Peters Memorial Anthology of Historical Crime, Headline, 1998) crime

Y2K (Mean Time, The Do-Not Press, 1998) crime

Mother of Rome (Shakespearean Whodunnits, Robinson, 1997; American edition: Carroll & Graf, 1997) crime, based on "Coriolanus" by William Shakespeare.

The Psychomantium (Interzone 116, February 1997) - science fiction, reprinted in The Year's Best Fantasy and Horror, Eleventh Annual Edition (St. Martin's Press, U.S., 1998)

Asleep At The Wheel (Phantoms, November 1996) - contemporary fantasy/ghost story

Doing Things Differently (Interzone 111, September 1996) - science fiction. Reprinted in Slovak translation in Fantazia, autumn, 2000. Reprinted in French translation in Etoiles Vives 9, 2002.

Community Service (Interzone 107, May 1996) - science fiction, shortlisted for British Science Fiction Association Award for best short story of 1996. Reprinted in Italian translation on the Intercom Science Fiction Web, February, 1999.

Feeding Julie (Interzone 100, October 1995) - science fiction/horror. Nominated for British Fantasy Award for best short story of 1995. Reprinted in French translation in Etoiles Vives 1, May 1997.

Rules Of Engagement (Substance, Autumn 1995) - fantasy (sequel to Return Of The Princess), reprinted in The Mammoth Book of Seriously Comic Fantasy (Raven, 1999; American edition: The Mammoth Book of Comic Fantasy II, Carroll & Graf)

Angel's Day (London Noir, Serpent's Tail, 1994) - crime

The Lemon Juice Plot (Royal Crimes, Signet, U.S., 1994) - crime; the first appearance of Aphra Behn and Nell Gwyn as Restoration crime investigators. Reprinted in Crimewave 2, 1999.

Women On The Brink Of A Cataclysm (Interzone 79, January 1994) - science fiction; reprinted in French translation in CyberDreams 6, spring 1996

Serpent's Blood (The Weerde Book 2, Penguin/Roc, 1993) - dark fantasy

Ruella In Love (Interzone 76, October 1993) - fantasy (sequel to Rules of Engagement). Reprinted in The Mammoth Book of Comic Fantasy (Robinson, 1998; American edition: Carroll & Graf, 1998).

No Better Than Anyone Else (Interzone 70, April 1993) - science fiction, shortlisted for British Science Fiction Association Award for best short story of 1993. Reprinted in Shots, Spring 2000. Reprinted in The Mammoth Book of Future Cops (Robinson, 2003; American edition: Carroll & Graf, 2005)

Choosing The Incubus (Bad Sex, Serpent's Tail, 1993) - contemporary fantasy/ghost story/mainstream

Learning To Fly (Interzone 68, February 1993) - science fiction

A Sense Of Focus (Constable New Crimes, Constable, 1992) - crime

Photo Finished (Eurotemps, Penguin/Roc, 1992) - fantasy

Return Of The Princess (Villains, Penguin/Roc, 1992) - fantasy

Agents Of Darkness (Interzone 64, October 1992) - contemporary vampire fantasy

The Vengeance Of Grandmother Wu (Interzone 61, July 1992) - contemporary fantasy/ghost story; reprinted in Czech translation, Ikarie (Czech Republic), October 1994; reprinted in French translation in Etoiles Vives 8, spring/summer 2000; reprinted in The Ant Men of Tibet and Other Stories, Big Engine, 2001.

Doris, Angie & Me (Hardcore #8, 1992) - mainstream

Bad Timing (Interzone 54, December 1991) - science fiction; winner of British Science Fiction Association Award for best short story of 1991; reprinted in Czech translation, Ikarie, February 1993; reprinted in German translation in Die Strasse Nach Candarei, Heyne, 1995; reprinted in Japanese translation in S-F Magazine, 1995; reprinted in anthology, The Best of InterZone, Voyager, 1997; American edition, St. Martin's Press, 1997; reprinted in anthology, Time Machines: The Best Time Travel Stories Ever Written, Carroll & Graf, December, 1997; Italian edition, Mondadori, 1998; reprinted in Dutch translation in Visionair, July 1998; Film and television rights optioned by Bel Air Entertainment, Spring 2000; reprinted in French translation in Etoiles Vives 8, spring/summer 2000. Reprinted in Estonian translation in Mardus, summer 2000.

Star (New Crimes 3, Robinson, 1991) - crime/horror; reprinted in Grotesque #1, April 1993; later reprinted in More Murders For The Fireside, Pan, 1994; Reprinted in Finnish translation in Isku, May 2005

Neon Nightsong (After Hours, Spring 1991) - mainstream/horror

What To Tell Santos (Woman's Own - yes, Woman's Own! - 21 May 1990) - crime - first runner-up in Woman's Own 1989 short story competition, published version slightly cut for language; reprinted (uncut) in New Crimes 2, Robinson 1990; American edition, Carroll & Graf, 1991

---
(c) 1996 - 2001 Molly Brown