Bad Timing and Other Stories
a collection of short stories by
Big Engine, U.K., ISBN: 1-903468-06 X
Molly Brown's first published science fiction story, Bad Timing, won the British Science Fiction Association Award for best short story of 1991. Since then, a Hollywood feature film based on Bad Timing has gone into development, her work has been translated into more than a dozen languages, her short stories have been included in such "Best of..." collections as: The Best of Interzone, The Year's Best Fantasy and Horror, The Mammoth Book of Comic Fantasy, and The Best Time Travel Stories Ever Written, and she has become known for defying traditional genre boundaries with her unique mix of comedy, crime, science fiction, and horror.
Now, for the first time, twenty-one of Molly Brown's most popular short stories are available in one volume.
"Watch out! Molly Brown's BAD TIMING and Other Stories is not so much a short story collection as an explosion of parallel universes and provocative ideas. Wow!"


Connie Willis
"Molly Brown is the best company imaginable. If you can't get a date with her (and you probably can't), the next best thing is reading her stories -- which are funny, creepy, sweet, touching and wicked in equal parts. If you buy this book, you won't regret it in the morning."


Kim Newman
"Molly Brown's short stories are extremely crisp, clever and a joy to read... a collection is long overdue."


SFX
"Molly Brown's first short story collection is a blast: an effervescent mix of comedy, horror, and sheer weirdness."


Interzone
"Identity-challenging SF with a hint of Philip K. Dick mixes with light comedy and outright horror... If there's a dud tale in this collection I've skipped over it. The gems would be enough to make up for them anyway."


Starburst
"Subversive, darkly comic... Brown picks up elements from SF, fantasy, horror and everyday life, gives them a brisk shaking and dumps them in our laps. This Pandora's box of a book is well worth opening."


Locus
"Bad Timing and Other Stories covers the body of published short work by Molly Brown (one of Interzone's shining lights), and what an exciting writer she is... Some pieces are just downright weird (I loved them for this, by the way), and many others moved from funny to scary. There is much here for all tastes with barely a disappointment to be found."


Altair (Australia)
"Molly Brown has long been one of the most idiosyncratic and distinctive of writers, dealing in fiction that frequently defies category (or more precisely, creates its own category). This beguiling collection is a demonstration that the short story is a particular metier of hers, and the disturbing offerings here present a panoply of dark imagination... Is it a crime piece? a horror story? Forget the categories - simply enjoy the fractured visions that Brown provides in this astringent collection."


Crime Time
"I would happily recommend it to readers who enjoy the bizarre, the weird and the way-out."


Shots
"... an impressive and unusual range... She works equally well in horror, science fiction, and comic fantasy."


Morning Star
"Every story in this collection has merit and many are outstanding. Because of the great variety, this is one author whose collection you can happily read in one sitting."


Vector
(Critical Journal of the British Science Fiction Association)
"One gets the feeling, reading her, that she could turn out upon request anything from a Joanna Russ feminist parable to Vollmannesque sleaze-beat reportage... Molly Brown is a writer big enough to contain multitudes."


Science Fiction Weekly
"Bizarre, striking, incisive and hilarious..."
"Every story catches the reader from the first line. You have to find out what is going to happen!"
"The tone can be anything from lighthearted and funny to the darkest noir... With so much variety of style and mood, and so many twists and turns in every tale, there should be something to appeal to everyone."
"There are vampires, cannibals, Chinese sorcerers, cops and anarchists... Even the grimmest stories will make you grin."
"Anybody who enjoys intelligent, witty stories that straddle sci-fi, horror and crime will want to read these stories again and again."
"I'm hungry for more from this versatile and talented writer."


excerpts from customer reviews posted on amazon.co.uk
"With these short stories, you are spoiling us."


unnamed sources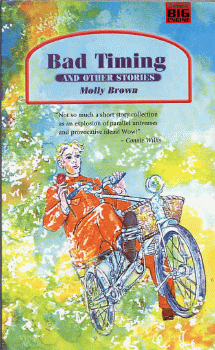 Order Bad Timing and Other Stories from Amazon.co.uk or direct from the publisher.
about Molly Brown, The Invitation To A Funeral Tour
---
(c) 1996 - 2001 Molly Brown