INVITATION TO A FUNERAL
a tale of Restoration intrigue by
Molly Brown
Some of the cast of INVITATION TO A FUNERAL

Aphra Behn (1640-89). First woman in Britain to make a living by writing. She served as a spy during the Dutch war of 1664-67 but was never paid for her services; as a result she went to prison for debt. Dedicated her play, The Feign'd Curtezans, to Nell Gwyn.


Nell Gwyn (1650-87). Orange seller turned actress, became one of Charles II's favourite mistresses. She got her first job at the age of seven, pouring drinks in a brothel. Known as a wit and practical joker, she was associated with "The Merry Gang" at court and devoted much of her time to tormenting her chief rival for Charles's affections, The Duchess of Portsmouth.


Louise de Kéroualle, Duchess of Portsmouth (1649-1734). French Catholic mistress of Charles II who was Nell Gwyn's greatest rival. Dubbed "Madame Carwell" by the common people who could not pronounce her name, she was believed to be a French spy.


James Scott, Duke of Monmouth (1647-85). Eldest of Charles II's acknowledged bastards, he always insisted that the king and his mother had been legally married, making him the legitimate heir to the throne. Was supported by the Country Party (the Whigs) as the Protestant alternative to his uncle James who had converted to Catholicism. Accused of participation in the Rye House Plot to assasinate Charles and James in 1683, he was exiled abroad. He returned to lead a rebellion against James II and was executed in 1685.


John Wilmot, Earl of Rochester (1647-80). "The profane Earl" was sent away from court at least once a year for various offenses, such as the kidnapping of an heiress, the smashing of the king's favourite sundial, or running about naked while drunk. A flamboyant Restoration era wit, poet, rake and war hero, he has been described as: "One of the greatest sinners of a sinful age, also one of the finest and most daringly speculative minds of the age of reason."

John Hoyle (circa 1638 - 92). A Gray's Inn attorney, his tempestuous affair with the playwright Aphra Behn lasted several years. He was stabbed to death during a tavern brawl.
Anne of Sussex (born 1661). Eldest daughter of Charles II and Barbara Castlemaine. Her friendship with Hortense Mancini was the subject of much speculation and gossip.

Hortense Mancini, Duchess of Mazarin (born circa 1645). Briefly the chief rival of both Nell Gwyn and Louise de Kéroualle, and possibly the most striking in appearance of all Charles II's mistresses, she was tall with waist-length black hair and eyes that changed colour with the light. Besides her great beauty, she was also known for her compulsive gambling, her skill with guns and swords, and a certain propensity for dressing in men's clothing.


Henry Bennet, Earl of Arlington (1618-1685). Head of Charles II's secret service, he was a figure of fun among the court wits who mocked him for his eccentric clothing, shrill voice and habit of wearing a black plaster across his nose in commemoration of an injury he'd received during the Civil War.


George Villiers, Duke of Buckingham (1627-88). Wit and playwright, he was one of the most handsome of the court gallants before he degenerated into a fat old man with wooden teeth and a malodorous periwig. He once fought a duel with his mistress's husband, then brought the mistress home to live with his wife. When the wife objected, she was told a coach was waiting to return to her parents. Childhood friend of the king and one of his most trusted advisors, he later fell out of favour, though Nell Gwyn remained his friend and often interceded with the king on his behalf. By 1678 he was lodging at Nell Gwyn's house.


Charles II, King of England, Scotland, and Ireland (1630-85). The son of the executed Charles I, first king after the restoration of the monarchy in 1660, he is probably better known for his many amours and illegitimate children than for his skill as a leader. At a time when anti-Catholic feeling was rife in Britain, he signed a secret agreement with the king of France, in which he promised to convert Britain to Catholicism in exchange for money and support from French troops. Like many of his promises, it was one he had no intention of keeping.


James Stuart, Duke of York (1633-1701). Charles II's younger brother, next in line to the throne. He was Lord High Admiral of the Royal Navy until forced to resign because of his Catholicism. He succeeded to the throne on his brother's death in 1685, fled the country in 1688 and died in exile.

And the corpse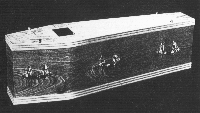 Matthew Cavell (1626-76). A fictional character. The first of 5 murder victims in Invitation To A Funeral.

Let the jaunt begin
---
(c) 1996 Molly Brown